La Belle Époque Duo will  perform in Jecklin's, historical Music House in Zurich on Friday December 11, . It is especially a honour for  La Belle Époque Duo to perform in one of the sacred temples of classical music in Zurich, especially during advent time, when the city shows its truest and warmest colours. Jecklin is part of Zurich's cultural life since more than one hundred years, as proven by the beautiful portfolio of pictures displayed on their website.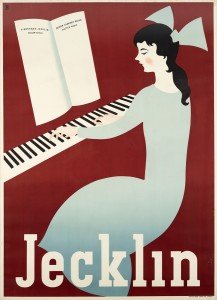 La Belle Époque Duo will perform music by Ranzato, Poulenc, Satie, Weill, Britten, Porter and Gershwin, already part of the historical repertoire of the ensemble. However, a few Christmas Songs from the American repertoire will feature as well, and will help us all get into the Christmas feeling. In particular, one American classic, 'I'll be home for Christmas', actually  names the recital. "I'll Be Home for Christmas" was recorded in 1943 by Bing Crosby, and was originally written to honour soldiers overseas who longed to be home at Christmas time, "I'll Be Home for Christmas" has since gone on to become a Christmas standard. [source: Wikipedia] 
La Belle Époque Duo hopes to be able to delight the audience with a lighthearted choice of repertoire, which varies from cabaret to operetta and American songs. Also, two little surprises plotted by me and Elitza awaits both our Bulgarian and Italian friends, who promised to be numerous at the concert. Stay tuned and make sure you ask for an encore!
Click on the event page for more informations.